SiFive - June 22, 2021
The Heart of SiFive is Performance, Intelligence, & Essential
Introducing the new era of SiFive Performance for RISC-V
When I joined SiFive last year, I found a dedicated team working on great technology with a vision to do no less than to change the world.
As I talked to our customers and partners, it was clear that while we had satisfied users, the industry expected and desired greater things from SiFive. The message was loud and clear that SiFive needed to push the boundaries of what's possible to bring high value, differentiated products to market. I knew that my job was to then enable and support our incredible collection of talent with the tools and resources needed for us to execute at a high level.

This week marks an important milestone toward that mission, with the unveiling of new products that showcase our capabilities, reinforce our strategy, and are available today for evaluation and licensing. The announcement of the SiFive Performance family of processors heralds the arrival of a new era for both SiFive and for the RISC-V movement. Long gone are the days where RISC-V is only suited for cost-down replacements of legacy 32-bit architectures; from this point forward, SiFive and the RISC-V ISA will be mentioned in the same breath as the processor architectures that are powering today's phones, laptops, and data centers.

The arrival of the SiFive Performance family of processors is proof that we've entered a new phase at SiFive, as we have just now delivered to lead customers the highest performance licensable RISC-V processor in the industry. However, "Performance" is more than simply a brand name for application processors with enviable benchmark scores; it represents an initiative within our company to continue to innovate to bring the highest possible performance processors to our partners' SoCs.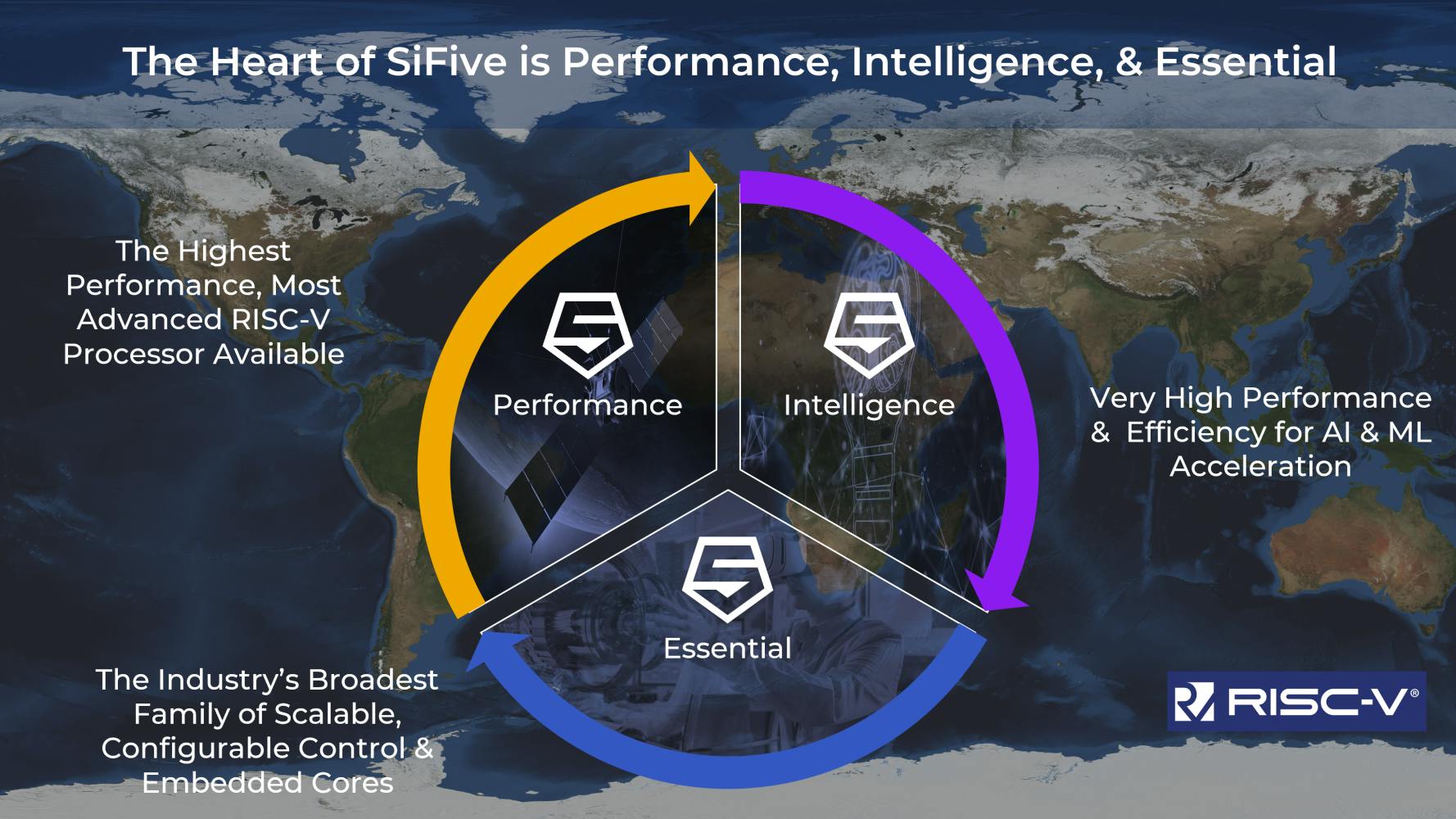 Followers of SiFive may recall that in April we announced another key initiative we call "Intelligence"; a software-centric approach to unleashing the power of RISC-V vector computing for machine learning applications. With our SiFive Intelligence X280 processor and support for popular CNN frameworks, we're already enabling customers building machine learning silicon for both training and inference, in the datacenter and at the edge.

I'd be remiss if I didn't mention our portfolio of processors that have laid the groundwork for the innovation that we're bringing to market today. These products that have been a part of 200 design wins are still a critical part of our journey and continue to evolve and improve with each new release. Going forward, we'll refer to these fantastic and broadly adopted products as the SiFive Essential family of processor cores.

Performance, Intelligence, Essential — words that demonstrate our vision, our mission, and our strategy. Now is an exciting time to work at SiFive. I encourage you to contact us to learn more about our great products, to watch our upcoming webinars, and to let us know via social media how we're doing . As we continue our business and technology growth, we're hiring – please join us on our exciting journey!

Stay tuned for more exciting announcements in the coming months:
Facebook, Instagram, LinkedIn, Twitter, and YouTube