SiFive - January 04, 2019
Embedded Intelligence Everywhere
In 2018, we saw the rapid proliferation of the RISC-V architecture, with commercial deployments of SiFive Core IP in a broad range of applications ranging from wearables and edge devices to the enterprise core. Modern compute workloads are evolving rapidly and require the ability to scale performance on demand and very often have real-time, deterministic requirements. This diversity of workloads poses computational challenges that can be resolved only by domain-specific architectures. With the advent of 5G, core networks are transforming from hierarchical models in which intelligence was concentrated at the core to a decentralized structure where intelligence is getting distributed to the edge.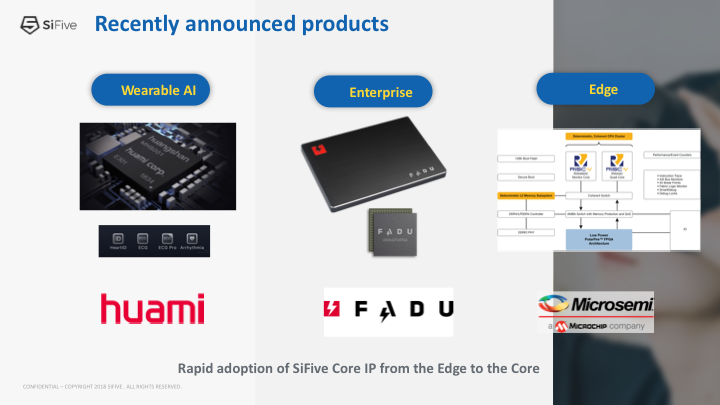 SiFive's Core IP series brings unprecedented scalability to the CPU IP market. Until now, CPU IP has generally been fixed with some limited configurability. With intelligence moving to the edge, new combinations of compute, storage and acceleration are required. SiFive Core IP is architected to enable heterogeneous computing and efficiency requirements of these distributed intelligent applications by providing a scalable portfolio of CPU IP which can be customized according to the domain-specific requirements.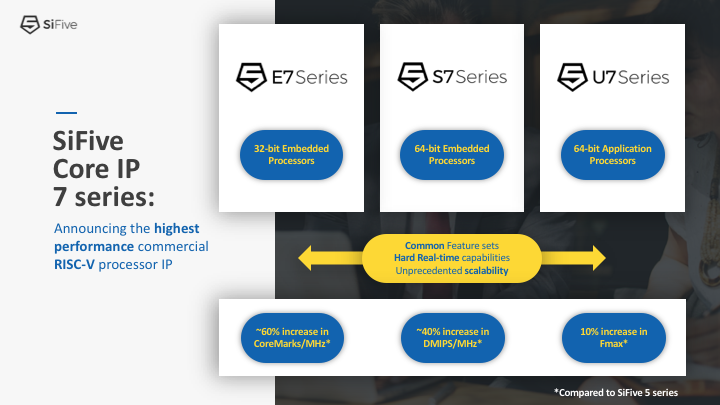 Last fall at the Linley conference, we unveiled Core IP 7 Series which sports our first superscalar CPU microarchitecture. The Core IP 7 series is the highest performance commercially available RISC-V CPU IP with performance and efficiency ratings higher than comparable Arm products across the board. We also introduced the Core IP S Series of cores, which are 64-bit real-time cores and have no competitive counterpart from any incumbent CPU IP provider. Compared to SiFive Core IP 5 Series, the Core IP 7 series is ~40-60 percent higher in performance at the same clock frequencies and has an additional 10 percent improvement in maximum frequency which translates to a higher total performance.
While performance and efficiency on benchmarks are important, the innovations that we are most excited about are our ability to do true heterogeneous computing where you can combine real-time processors with application processors in the same coherent domain, along with our ability to enable deterministic response from an application processor. Embedded applications (edge, AR, VR, intelligent machines, ADAS, AI, storage) are progressively becoming more intelligent and require real-time deterministic response as well as the capability to run high-level operating systems to interface with the real world and third-party applications.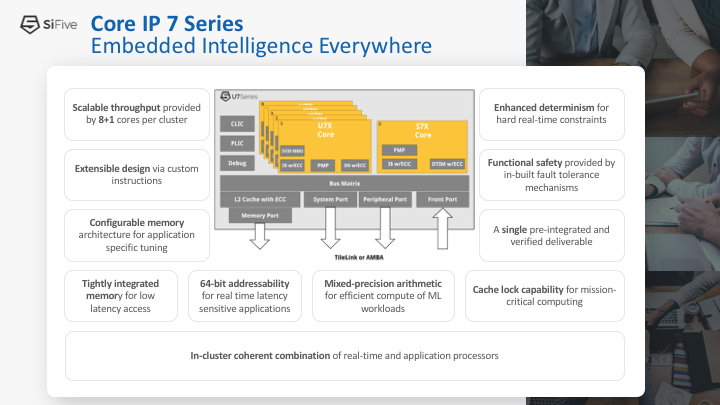 RISC-V is the only architecture that enables a common software stack across the entire application space. This enables lower TCO, common software stacks, and scalability from the edge to the cloud. We are translating the architectural advantages of RISC-V into SiFive's CoreIP portfolio of CPU IP, which can be efficiently combined, customized, and extended to meet your specific application requirements. The details of our latest innovations have been documented in a recent article by Bob Wheeler from the Linley Group and is available here.
In 2018, we saw multiple partners launch commercial products based on SiFive Core IP, and there is so much more to come in 2019. We have a diversity of exciting products in our R&D pipeline and will continue to develop market-defining innovations that will enable a hyper-connected world of a trillion connected devices.
Happy New Year, see you at CES2019!