December 13, 2016
SiFive Named Startup of the Year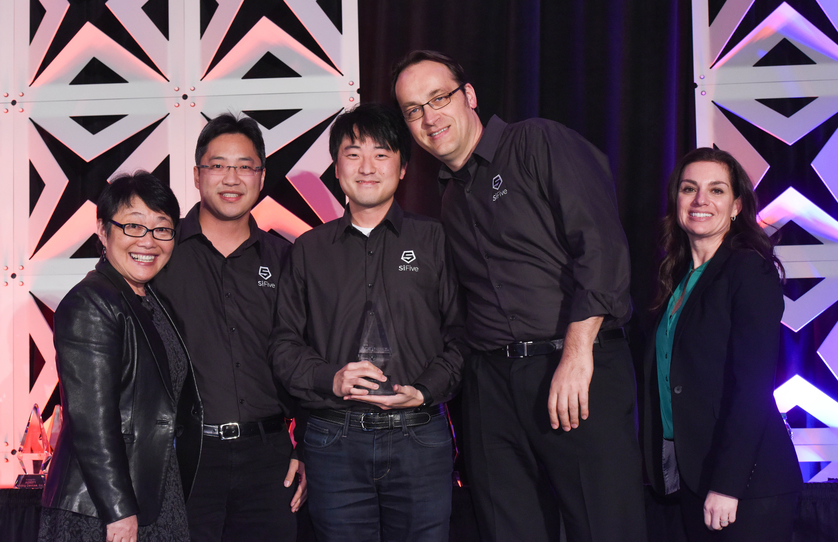 SAN FRANCISCO – Dec. 13, 2016 – SiFive, the first fabless provider of customized, open-source-enabled semiconductors, has been named "Startup of the Year" at the UBM Annual Creativity in Electronics (ACE) Awards held in conjunction with the Embedded Systems Conference Silicon Valley in San Jose.
The ACE Awards, given in partnership with EE Times and EDN at an awards ceremony on Wednesday, Dec. 7, showcase the best of the best in today's electronics industry. The "Startup of the Year" category recognizes companies less than three years old with working prototypes or proof of concepts of innovative new electronics technologies. The award was judged by a panel comprising UBM editors and dignitaries from the electronics industry.
"This award caps a banner year for SiFive, one in which we not only brought to market the first ever commercial open-source RISC-V-based silicon but also sold out of our development kits in less than a week," said Krste Asanovic, co-founder and chief architect, SiFive. "The momentum and excitement around RISC-V – and SiFive – was palpable during ESC, and we can't wait to see what's in store for 2017. We are proud to receive this recognition of the team's efforts, and humbled to join the ranks of the other innovative companies who have received this distinction in the past."
"The innovation and thought leadership introduced by this year's ACE Awards finalists and winners is true a testament to their hard work and dedication to their craft," said Nina Brown, VP Events, UBM Americas. "We'd like to thank each of this year's participants for their incredible work in the electronics field and celebrate their accomplishments as they help to further the industry in new and exciting ways."
About the Embedded Systems Conference
The Embedded Systems Conference (ESC) is where the global design engineering community gathers to learn, collaborate, and celebrate innovation. Held in Silicon Valley, Boston, and Minneapolis, ESC empowers the design engineering community with hundreds of essential technical training classes and accreditation opportunities. For more information and to register for ESC, visit: www.embeddedconf.com. ESC is organized by UBM Americas, a part of UBM plc, an Events First marketing and communication services business. For more information, visit ubmamericas.com.
About SiFive
SiFive is the first fabless provider of customized semiconductors based on the free and open RISC-V instruction set architecture. Founded by RISC-V inventors Krste Asanovic, Yunsup Lee and Andrew Waterman, SiFive democratizes access to custom silicon by helping system designers reduce time-to-market and realize cost savings with customized RISC-V based semiconductors. SiFive is located in San Francisco and has venture backing from Sutter Hill Ventures. For more information, visit www.sifive.com.
MEDIA CONTACTS
Jack Kang
SiFive
(510) 673-1309
jack@sifive.com Leslie Clavin
SHIFT Communications for SiFive
(415) 591-8440
lclavin@shiftcomm.com